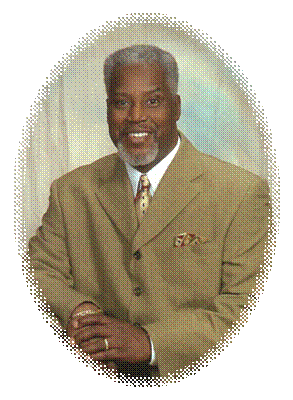 Biographical Info For Dr. James Fernando Linville
DR. JAMES F. LINVILLE, PASTOR is a native of Winston-Salem. He attended public schools in Winston-Salem. He is a graduate of North Forsyth Sr. High School. He is also a graduate of Forsyth Technical Institute, Piedmont Bible College, and Winston-Salem State University.
In 1989, he was one of six men chosen out of one hundred and fifty thousand (150,000) candidates to receive the "Outstanding Young Man of America Award". He was inducted into Oxford's Who's Who Edition in 1992 and Who's Who in the 2004-2006 Heritage Registry. He received an honorary Doctorate from New Hope Bible College. He is a National certified teacher through the Evangelical Teachers Training Association. He is a member of the High Point Association, General Baptist State, and National Baptist Convention U.S.A. Inc. He is also the recipient of the Distinguished Service Award From the Winston Lake Family YMCA Black Achievers.
He is the author of Six books, "Five Powerful Offerings of Israel Pointing To Jesus Christ", "Going Through The Storm", "Biblical Principles on Stretching Your Dollar", "God's View On Marriage and Divorce" and "Soul Food For Daily Living","The Power of Bringing Forth A Divine Request".
Pastor Linville served as Associate Minister at Second New Bethel Baptist Church and Saint Stephens Baptist Church of Winston-Salem NC. He has Pastored the following churches: Rock Hill Baptist Church, Stokes County, NC and currently, he is the Pastor of Piney Grove Baptist Church of Winston-Salem, NC, Inc.
Pastor Linville is the father of two sons, Dwight and Dedric. He is married to Renita Thompkins Linville